St. Augustine, Cathedral Basilica of St. Augustine
Basilica Cathedral. Bild: TripAdvisor
Ein Besuch der Cathedral Basilica of St. Augustine ist eine inspirierende Erfahrung für Menschen jeden Glaubens. Man kann den Geist und die Hingabe spüren, den einst die Geistlichen und die Gemeindemitglieder fühlten, als sie ihre Gottesdienste in dieser Kirche abhielten. Das Gotteshaus der ältesten Kirchengemeinde der USA entstand ursprünglich 1565 und wurde öfter neu errichtet.
Die ersten drei Gebäude, wurden während britischer Angriffe zerstört und wieder aufgebaut. Das jetzige Gebäude entstand in den Jahren 1793 bis 1797. Der achteckige Glockenturm kam 1888 dazu. Es wird angenommen, dass eine der vier Glocken die älteste der Vereinigten Staaten sei, da sie von einem der älteren Kirchengebäuden stammt.
In der Zeit, als das Land erforscht wurde, als Piraten ihr Unwesen trieben und während der "Flagler Jahre" war die Kirche ein vitaler Teil des religiösen Lebens der Kirchengemeinde in der Stadt.
Die Kirche befindet sich an der Cathedral Street zwischen Charlotte Street und St. George Street in der Mitte der Altstadt von St. Augustine und ist heute ein historisches Wahrzeichen. Die bewegte Vergangenheit und die hervorragende spanische Architektur sowohl im Inneren der Kirche als auch die äußeren Fassaden versetzen Besucher aus aller Welt in Ehrfurcht und Erstaunen.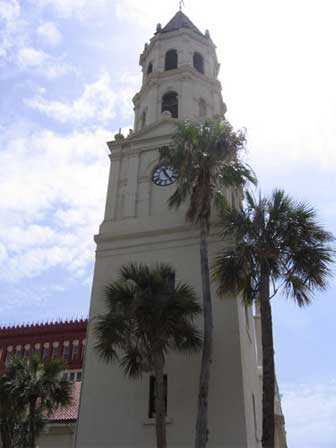 Auf einer Plakette steht folgende Inschrift:
CATHEDRAL OF ST. AUGUSTINE
The parish of St. Augustine, which dates from the celebration of a mass on September 8, 1565, by the Spaniard Pedro Menedez and his men, is the oldest Catholic parish within the present day United States. During Queen Anne's War, the English Governor of South Carolina, James Moore, raided St. Augustine and destroyed an earlier church. Plagued by financial difficulties, the parish was unable to construct a new church until this coquina edifice was begun in 1793. Completed in 1797, it became a cathedral in 1870 when St. Augustine was elevated to a diocese. Augustin Verot was invested as the first bishop. In 1887, fire severely damaged the cathedral, but the facade and walls remained standing and were preserved when the building was restored in 1887-1888. The chancel, transcept and campanile were added at that time. Further restoration was carried out in 1965.